Digital & Social Media Engagement Strategies
Digital and Social Media Engagement Strategies
Take your message even further with the help of Lyons PR Digital and Social Media engagement strategies.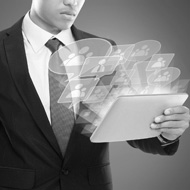 Online Videos
Our dedicated digital video team combines public relations savvy with production expertise to produce eye-catching, attention-grabbing videos that can be shared via all social media and online platforms. Online videos are a way for your members, fans or followers to keep up with the latest from your organization. Whether it's to launch a campaign, promote educational tips, or summarize your conference, our dedicated staff works closely with our clients to produce the video necessary for your organization's needs.
View Lyons PR video samples here.
Webcasts
Equipped with the latest in streaming technology, the experienced Lyons PR digital production team has the tools, savvy and knowledge necessary to transform your next webcast into an online broadcast event. Whether it is a LIVE stream of a panel discussion, seminar, show or event, webcasts are a key way to disseminate your message and communicate effectively with your target audience. Broadcast in high definition, webcasts can be easily integrated into any number of platforms including Facebook, YouTube, or customized and branded landing pages.
Our webcasts can incorporate a number of interactive digital components including both real-time Q&A and social media capture that integrates Twitter and Instagram.
Social Media Engagement
Now more than ever, it's important to have a presence on all social media channels. At Lyons PR, we know that it's vital for you to communicate with your members and social media followers. In order to fulfill that need, our social media team provides our clients with the tools necessary so they are able to adequately promote their radio and TV interviews, PSAs or videos on social media channels including Facebook, YouTube, Twitter and Instagram.
Social Media Engagement at Events and Conferences
Our onsite digital team allows our clients to turn their annual meeting, conference or convention into a truly interactive event, and one that engages attendees and encourages participation. Among our conference based services is one that engages attendees in real-time, and combines advancements in real-time video technology with the personal influence of social media. Together, an organization's core messages echo beyond the convention hall, using attendees as the message bearers and social media as the platform.
On-site Broadcast Hub
Annual meetings, conventions and events are a unique opportunity to capture multimedia content when organization leaders and members are gathered. We can help you maximize your audience reach by being a multi-media broadcast hub for your event. By setting up a digital media hub, we're able to conduct interviews or record audio or video soundbites and messages that can be distributed to media or targeted audiences. The Lyons PR on-site broadcast team can help you produce a comprehensive and cohesive campaign from your convention or annual meeting including on-site satellite media tours, radio media tours, and video production.
Facebook Interactive (Webstreaming via Facebook)
Our Facebook Interactive service lets your talent, company spokesperson, or organization leadership, interact LIVE with fans via a streaming media player on your Facebook page. In real time, fans can ask questions, while the talent answers on-camera directly to your audience. And true to social media design, fans are encouraged to share, invite friends to take part, and help grow your network and fan engagement.
Podcasts
A Lyons PR produced podcast generates awareness, creates a direct one-on-one communication channel with core audiences and bolsters online multimedia. Lyons PR and our veteran production staff help your organization connect to key listeners and communicate new ideas, issues and messages. We help you sound your best while creating informative and compelling podcasts that will build a loyal following and listenership. Podcasts can be produced in several different manners, from a traditional Q&A, to a multi-faceted feature that would sound at home on public radio. Podcasts can include multiple spokespersons, sound effects and ambient sound. We will create and produce podcasts that engage your audience and entice them to become repeat listeners.