Maximize your radio audience in the social media era
Radio remains, and will continue to be, an extremely effective medium to be utilized as part of communications plans. According to Nielsen/Arbitron, over 91% of Americans listen to radio, and it's still a major platform in which many Americans receive their news. Radio Media Tours are a commonly used tactic for PR campaigns, but, like everyt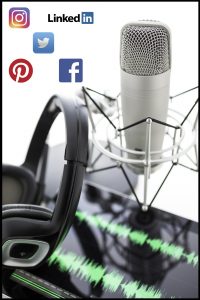 hing else in the PR industry, they too have evolved.
While radio outlets continue to produce superb content, how people listen and receive that content is indeed changing. Social media hasn't killed radio, rather, when it comes to radio media tours, it has afforded the opportunity to get more out of each interview and extend reach and audience engagement. So before embarking on your next radio media tour or radio interview, keep in mind these few tips to integrate social media into your radio outreach to maximize efforts.
Promote
Use all of your social media channels to promote upcoming live interviews. And be sure to include a link to the radio station's "listen live" so followers can tune in.
Engage
Nearly every outlet has a presence on social media, most notably on Twitter and Facebook.  Before, after, and even during live interviews, interact with participating outlets via social media and use the opportunity to connect with both station hosts and station audiences.
Share
Capturing interviews is easier than ever, whether it's posted on the station website or you record direct from a live airing. Post the interview and share it with your Facebook and Twitter followers, and encourage them to share as well.  And if you need somewhere to house the interview, Soundcloud is a great choice.
When it comes to integrating the traditional and new media, there's no more perfect marriage than radio and social media.  Like, favorite, retweet your favorite radio station or host and continue the conversation from the airwaves and onto Twitterverse and social conversations.
Radio is standing strong and can play a key role in your outreach efforts, and, by using social media to amplify, you can extend your reach, amplify the message and engage new audiences.
More SMT Tips & Resources
Avoid these three things during your next SMT
What makes a Satellite Media Tour Successful?
NIELSEN: Valuable Resource for Planning a SMT
Using B-Roll during Satellite Media Tours
Do you have Satellite Media Tour examples?
What does a Satellite Media Tour cost?
Contact Us
(301) 942-1306
Contact Form | info@lyonspr.com