Lyons Broadcast PR produces satellite media tours in Washington, DC and the surrounding area for a wide variety of clients including leading associations, nonprofits, brands and federal agencies. Whether in studio at the National Press Club Broadcast Center or broadcasting remotely from the Walter E. Washington Convention Center, our Washington, DC satellite media tours reach targeted audiences nationwide.
Learn More About Our Satellite Media Tours Here
For nearly two decades, Lyons Broadcast PR has worked with clients in and around the Washington, DC area producing satellite media tours that reach targeted audiences around the country. Based in the DC area, we provide three production options for our SMTs: in-studio, on-location, or virtual (VMT) via Zoom.
When clients work with Lyons on a Satellite Media Tour, they arrive in studio and on-set knowing all details, large and small, are handled. The day of the tour, the spokesperson should only be concerned about giving the best interview possible.
Our studios in downtown Washington offers several set options, with accommodations for multiple talent as spokespeople.
From the control room at the National Press Club, our producers ensure the SMT runs smoothly as we coordinate with approximately 20-25 media outlets throughout the morning. Our team of directors, videographers and audio engineers ensures our spokespeople look and sound their best for the duration of the tour.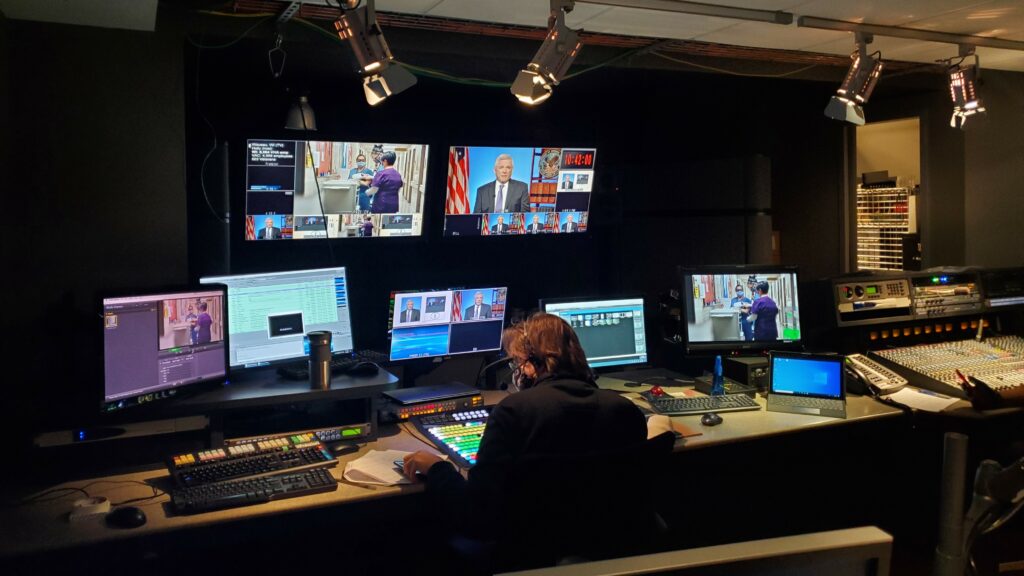 Our remote or "on-location" Satellite Media Tours in and around the Washington, DC area originate from private homes and offices, or, larger venues like the Walter E. Washington Convention Center. Regardless of location, with its many years of experience producing live broadcasts all across the nation's capital, your client or organization is in expert hands with the team at Lyons for satellite media tours in DC.
Our stand-alone Satellite Media Tours consist of high-profile networks and top-market local outlets, and offer a unique opportunity to reach millions of target audiences and consumers around the country in just a few hours without leaving the city.
More SMT Tips & Resources
What makes a Satellite Media Tour Successful?
Using B-Roll successfully with your SMT
View Satellite Media Tour examples
What does a Satellite Media Tour cost?