Webcasting Services | Washington, DC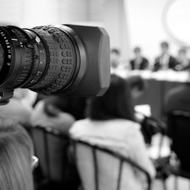 Lyons PR offers live internet streaming and webcasts in Washington DC and around the country.
Some companies offer webcasting and online streaming capabilities.
Other companies offer high-definition video production.
We ask--why can't you have both?
Lyons Broadcast PR, the premiere broadcast public relations firm, based in Washington, DC, combines high-end video production with technically sound streaming solutions to provide our clients with high quality, live online streaming for press conferences, seminars, panels and events.
Our solution for Webcasting events include:
Turnkey live streaming solution including all video broadcast production services
Embedded, customized media players
Integration with client website and social media platforms
Stream direct to website, custom landing page, Facebook, Instagram or Youtube
Onsite broadcast streaming producer and crew
Multi-camera operations
Opportunity to incorporate comments, Q&A and tweets into live streaming event
Include social media chatter within stream
Compatible to view on all major platforms including iPhone, iPad and Android
Fully produced webcasts with graphics, power point slides, lower-thirds and full production features
Dedicated server to ensure seamless, uninterrupted streaming
Lyons PR's high-definition video production and broadcast streaming experts will ensure that your organization's next live streaming event will be a success.
To learn more about Lyons PR webcasting services in Washington, DC contact the Lyons PR team today at (301) 942-1306.