FREQUENT ASKED QUESTIONS REGARDING SATELLITE MEDIA TOURS
Whether you've worked with Lyons PR or other satellite media tour companies in the past, or are simply looking to gain a basic understanding of broadcast media relations, the experts at Lyons PR are here to answer your most pressing questions about satellite media tours and working with a SMT company.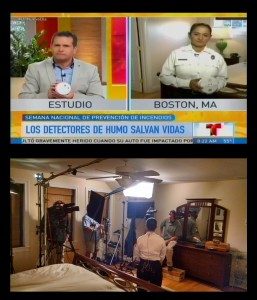 When your organization or group is embarking on a satellite media tour, it's important to understand a few of the basics first.
CONTACT LYONS PR ABOUT YOUR SATELLITE MEDIA TOUR
On a daily basis while talking to clients, or perspective clients, we hear many of the same questions. So to help answer some of the most frequently asked questions surrounding Satellite Media Tours, we present this quick primer:
What is a satellite media tour?
A satellite media tour is a series of  TV, radio and online interviews conducted in a single day from a single location. It allows your spokesperson to be interviewed by multiple outlets around the country without the expense of traveling to each market. Interviews are typically booked in 5-10 minute windows.
How long do satellite media tours last?
The average satellite media tour is four-to-five hours, and typically starts in the early morning hours to accommodate morning news programs.
Where do satellite media tours take place?
There are three production options for a satellite media tour: In-Studio, On-location (remote) or Virtual (Zoom). Lyons PR produces Satellite Media Tours all across the country.
How many interviews take place during a SMT?
A satellite media tour typically consists of between 20-and-30 interviews. Depending on the campaign, spokesperson and location, that number may be higher or lower.
How is the spokesperson chosen?
The spokesperson or "talent" can be crucial to the success of a satellite media tour. The spokesperson can be an internal spokesperson such as a CEO, or, a 3rd party spokesperson such as a subject matter expert or celebrity ambassador.
How will I know if (and when) my interviews aired?
Broadcast monitoring platforms allow us to know exactly when and where each interview is aired. 99% of taped interviews that are conducted are aired.
Are all satellite media tour companies alike?
Easy answer for this one. No. Choosing the right satellite media tour company will be crucial to your campaign's success.
How do I get started on a Satellite Media Tour for my company or organization?
For assistance in planning an effective Satellite Media Tour, contact the experts at Lyons PR at [email protected] or (301) 942-1306.
More SMT Tips & Resources
What makes a Satellite Media Tour Successful?
Using B-Roll successfully with your SMT
NIELSEN: Valuable Resource for Planning a Satellite Media Tour
Do you have Satellite Media Tour examples?
What does a Satellite Media Tour cost?